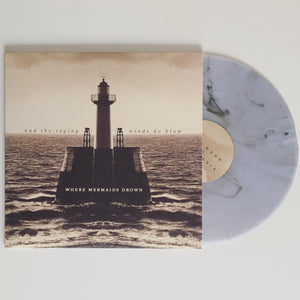 Where Mermaids Drown - 'And The Raging Winds Do Blow' [LP]
$15.00
Translation missing: en.products.product.regular_price
$22.00
LIMITED QUANTITY AVAILABLE!
And The Raging Winds Do Blow is a story, a tragic one at that, full of emotional depth and big hitting riffs. Its seafaring and oceanic theme will have you literally living the tragedy, and battling all the elements that make life in the open seas an unforgiving and perilous place to be. The dark open waters should always be respected, as should Where Mermaids Drown. They have released a really powerful EP that is as good as anything that's out there at the moment. Be sure to put that life jacket on, and immerse yourself in this brilliant release.
-Pat 'O @ Veil of Sound
Catch it at WPRD: https://www.youtube.com/watch?v=vtDv4IMbrcA&t=1208s
Pressed on 140gm Natural translucid vinyl with white & black marble.  This will be limited to 25 copies.